Evelyn E. Gaiser, Ph.D.
Associate Professor, SERC/Biological Sciences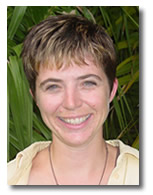 Dr. Gaiser is an aquatic ecologist who specializes in algal biology. Her research focuses on interpreting drivers of environmental change through exploring responses in algal communities at a variety of temporal and spatial scales. Her laboratory is equipped for physiological and taxonomic studies of algae, and she is particularly interested in paleoecological studies of past change using diatoms. In the Everglades, Dr. Gaiser's research focuses on the drivers of the distribution of periphyton mats across the ecosystem and in comparison to other similar karstic wetlands of the Caribbean. She is lead PI of the Florida Coastal Everglades Long-Term Ecological Research program.